Welcome to
"Tip Tuesday!" - Stash Fabric
I love learning new things and then sharing that knowledge with my quilting friends. So, every Tuesday I'll provide some tips, hints, tricks, tutorials, shortcuts, etc. that I've learned over the years and share them here on the blog.
"Tip Tuesday"

will be a collection of information about a wide variety of subjects garnered from a large variety of sources. I am not an expert by any means and do not take credit for being the great wizard behind all of these hints and tips. I will gladly give due credit whenever possible.
These tips will be archived and accessible to you just by clicking on the

"

Tip Tuesday"

tab above.
Read, enjoy, and be inspired!
Does your fabric stash look like this?
http://playasugo.blogspot.com/
Or does it look like this?
Or is it somewhere in between these two pictures?
Are you the type of quilter who only buys fabric for particular projects? I know some people who do that. They do

NOT

have a fabric stash. As a matter of fact, one of my friends will not buy fabric for a new project until the one on which she is working is completely done. That means that even if the fabric is on sale, she doesn't buy it until she's ready to begin working on it. She has

NO

stash at all. She buys what the pattern calls for and if there is left overs, she'll give it away or sell it if there is a bunch of it.
I'm not sure I would like to go to that extreme, but for the past couple of years I've been pretty darn good at buying mostly for particular projects. At least I buy with a particular project in mind, and even try to put all of the fabrics for that project together, along with the pattern, in tote or other container.
I have also been attempting to use at least something from my stash for most of my projects. Because I am often using a bit of my stash, I rarely get bothered if I have to buy coordinating fabrics. I'm still using stash and that's my goal.
Now don't get me wrong. There is nothing wrong with buying fabric simply because you love it. Most of us have done that and and will do it again in the near future.
When you are going to buy "for the stash" how much do you buy? I can't tell you how many times I've been asked that question. I still find it challenging to answer with any really good response. Why is it so difficult to answer that question? Because how much I buy depends on a number of things.
For instance, is the fabric one that I would consider using for a border? If so I buy more so I can cut it on length-wise and not have to piece it. Since I tend to make larger quilts, 3 yards (108") will usually take care of a border and if I want to ad some of the fabric in the body of the quilt, I generally get a yard for that.
Michael Miller - Mid-Century Modern Atomic
Because I've been trying to be a better "scrappy quilter" lately, I've found that if I really love a particular fabric, I am usually happy with a half yard cut. Now I know many of you will say that you only need a fat quarter or less if you are trying to be scrappy and that may be true for you, but I often find that I like to be a little more controlled with my scrappy. Although it is becoming easier for me, I find it much easier to work with 25 different half yard cuts rather than 50 fat quarters.
If I do decide that I want to shop for fabric just because I can and I don't have any project in mind, I know that I am ALWAYS low on neutrals and light backgrounds. I don't really know why that is the case, but it always is. If I see a good deal on these fabrics, I will often buy a handful just so I don't find myself wanting to start a project only to find that I have to wait because I don't have the fabric I need. Much of what is in my stash right now includes fabrics that I don't love but know will make beautiful projects.
For example, for a number of years I bought Thimbleberries, Kansas Troubles, etc. fabrics because I liked them and I could easily find fabrics to match them. I didn't really have to think. Just about everything worked well together.
Lately, I find myself attracted to a more modern fabric choose. I love working with Kona Solids and just about any kind of batik.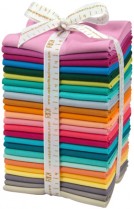 I can never have enough solid white, black or grey because they will coordinate with just about anything. If that is the case, how much do I buy when I am buying for stash? Again, it's hard to say, but I usually buy at least three yards.
I have learned from experience that I do need to look at my stash pretty regularly. If I don't, I've been known to buy the same fabric that I already have. I know it's just because I love it, but I really don't need or want to have multiple yardage cuts of fabric. If I want a total of ten or more yards, I'll buy a bolt!
I know I didn't really answer the BIG question about stash, but it really is a personal issue. Buy what you love and what you can afford.