Click

HERE

if you are looking for today's
Tip Tuesday!
Welcome to my day of the
We Support You Blog Hop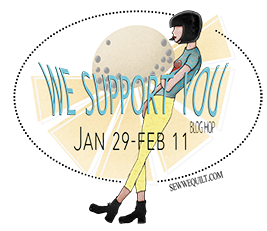 We can all use friends and there are few better than the two ladies who have organized this hop.
I'm sure, like me, you've all been enjoying the wonderful creations using the darling bra pattern designed by Mdm. Samm. There's good news for you all.
The "We Support You" Friendship Quilt Pattern is available
for purchase for $12.00 by emailing Mdm Samm directly to
I look forward to seeing what you create!
Be sure to check out all of today's participants.
You'll find some awesome eye candy and great inspiration!
Feb 10th
As many of you know, I've been involved in a numerous breast cancer fundraising and awareness activities over the years and I was thrilled when this hop was announced!
Back in 2007 my daughter Lynn and I walked in our first Breast Cancer 3-Day, 60 Mile walk. Although it was challenging (physically and emotionally), we raised our required money ($2200 EACH!), did our training walks and thought we were totally prepared. Well, nothing could have prepared us for what we encountered! We met survivors, current fighters, caregivers, and many friends and family of those who lost their battle with the disease.
Weather-wise, the weekend was miserable (rainy and cold), but I laughed and cried so much that weekend that the crappy weather didn't really matter. By the end of the event, I was hooked and Lynn and I signed up to walk the following year, and my husband Jack signed up to be a volunteer. In 2009, Jack and I walked in the Dallas 3-Day event and that is where I met my friend Darlene.
From this point on, Darlene will be known as Darlin' because that is how her Dad said her name and that's what everyone calls her today. :-)
Today's creations are for Darlin' - my inspiration and my hero.
The rest of this post is an open letter to Darlin'. Please read and enjoy!
Dear Darlin' (I'm imagining your dad saying your name and you are right. He DOES sound just like Sam Elliott! - Oh My!!),
I think (hope) I've finally found a way to surprise you, and send a little bit of our Ohio winter your way. :-) I can't imaging being 40 years old and facing the "Big C" for a second time. You are an amazing woman who thinks of everyone else first and always works tirelessly to make others feel good, laugh and forget about their troubles, if even for only an hour. Well, today it's your day to laugh and forget. :-)
Remember when you told me that chemo and radiation kicks your butt and makes you feel like that old worn and beat up sofa in your grandma's parlor? And even though you know it will grow back, you are angry that your long black hair is almost gone and that you'll soon simply need to use a towel, rather than a hair dryer. You hate the way you look and have started avoiding mirrors. You are angry with yourself because these changes are making you hate how you look, which you've never done before.
In our last conversation, you said you just want to throw something or someone across the room and be done with the anger.
Well guess what? Here's a "Dam**t Doll"
*
for you to do just that. There's a saying that goes along with this doll:
When everything goes wrong for you,
don't throw, kick or shout.
Here's a little "Dam**t Doll"
you just cannot be without.
Just grab it firmly by the legs
and find a place to slam it.
As you whack the stuffing out,
yell - Dam**t, Dam**t, Dam**t
Do you notice the old warn out sofa look to this doll? What about the sparse black hair and lack of eyes? I did that just for you Darlin'. And yes, this doll is in the middle of a snow bank!
Here's you doll's long-lost sister. She's the one Mom gave me a long time ago.
Throw away that negative image of yourself because Darlin', you are BEAUTIFUL! I think you should come to Ohio and make snow angels with me! That will really make you feel wonderful. :-)
When you made the decision to not have reconstructive surgery, you said your only regret was that you never wore one of those "pretty" bras. Over the years, you've also said that you are a cow girl through and through - down to your skivvies. Well, I've combined those two things for you and here's your "pretty" cow girl bra!


Darlin', your bra might not be filled anymore, but that doesn't matter. You have so many friends and family who care, and our heats are overflowing with love for you.
I know you struggle at night because all those "demons" rear their ugly heads at 2:00AM, but you can turn off those lights and sleep tight my dear. Our words of support not only surround you during the day, but they glow in the dark and will support you while you sleep.
(I wish I could have gotten a picture of the glowing, but my camera would just not cooperate! The words all really glow and it is awesome. I outlined stitched all the trapunto letters with Superior Threads' Nite Light Extra Glow and then stitched just outside that in red thread.)
And finally, because you love to carry a tote bag instead of a purse, here's a reversible one
**
just for you. (Ok, I know you'd rather have a saddle bag, but I just couldn't do that!) I think it has a cow girl feel to it. You know, to match your bra. :-)
You sure you don't want to come to Ohio any time soon? We could go for a horse back ride.
So in conclusion Darlin', Thanks for being a part of my life and allowing me to be a part of yours.
You are loved!
**********************************************************
*Inspiration for the Dam**t Doll came from one that my mother gave me when I was going through my divorce in 1997. It made me laugh then and it still does.
Here's a close up of the card that is attached to the doll. Looks like maybe I've used this a few times, doesn't it? By the way, I apologize if this insults anyone. It certainly was not meant to be mean, but I knew that Darlin' would love this.
**The tote bag is my adjusted version of The DIY Reversible 1 Hour Tote found at
Haberdashery Fun.