"Tip Tuesday!" - Tension
I love learning new things and then sharing that knowledge with my quilting friends. So, every Tuesday I'll provide some tips, hints, tricks, tutorials, shortcuts, etc. that I've learned over the years and share them here on the blog.
"Tip Tuesday"

will be a collection of information about a wide variety of subjects garnered from a large variety of sources. I am not an expert by any means and do not take credit for being the great wizard behind all of these hints and tips. I will gladly give due credit whenever possible.
These tips will be archived and accessible to you just by clicking on the

"

Tip Tuesday"

tab above.
Read, enjoy, and be inspired!
If there is one thing that many of us quilters fear, it's looking at our stitches and seeing possible tension issues.
So many of us are afraid to turn those little dials or push those buttons that would fix the problem because at some point in our sewing lives, we were told to NEVER touch those dials or buttons.
Well, guess what? It's ok to touch them. No one is going to send you to the quilt slammer or take away your power cord.
Lori Kennedy

at

The Inbox Jaunt

has a mini series on

"Tackling Tension"

and shares her tips for getting the right tension for perfect stitches.
Check out part 1 of her series HERE.
Your sewing machine will thank you!
***********************************************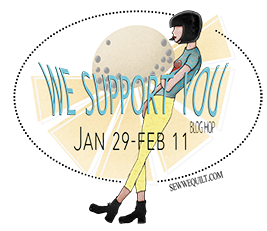 Check out the fabulous creations from today's participants.